2010s
Sarah Granke (MSW '15) has been appointed to the newly created position of sexual violence prevention and supports specialist with the Province of Nova Scotia. In this role, Granke is leading the implementation of Nova Scotia's first province-wide coordinated response to sexual violence.
Liz Knox (BA '10) and Candice Styles (BA '14) have returned for another season in the Canadian Women's Hockey League (CWHL), playing for the Brampton Thunder. Knox, a goaltender, won four OUA titles during her time at Laurier, while Styles, a defender, won three.
William Morgan (BA '14) was awarded the Spirit of Brock medal at his Brock University Faculty of Education convocation ceremony. Morgan, who lost his vision at the age of five, was recognized for his determination and perseverance in becoming an elite athlete, competing in judo at three Paralympics and five World Championships.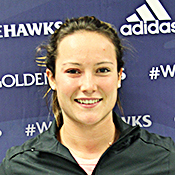 Devon Skeats (BA '15) signed a professional contract with the Buffalo Beauts of the newly formed National Women's Hockey League (NWHL). Skeats, a three-time OUA women's hockey champion with the Golden Hawks, became the first Canadian university player to sign in the NWHL, which is the first paid professional hockey league for women.