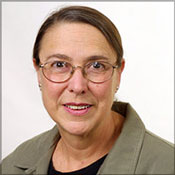 Mary Ann Fieldes, professor emerita, passed away March 5, 2016 in her 73rd year. Fieldes, a longtime professor in the Department of Biology, was instrumental in the growth of the Science program at Laurier. In addition to being a leading researcher and highly respected teacher, she served as the university's first assistant dean: science, helping to enhance science programming at Laurier when the program was still under the Faculty of Arts and Science. Read a full obituary on legacy.wlu.ca.
Michael Gibbon (BA '76) passed away unexpectedly Oct. 5, 2015. He was 61. Gibbon's family and friends remember him as an intelligent, compassionate, beautiful human being of insatiable curiosity. Born and raised in Kitchener, Gibbon loved fine wine, baroque music, good conversation and reading. Read a full obituary on LifeNews.ca.

Mike Traynor (MBA '94) passed away peacefully Jan. 29, 2016 with his wife Judy by his side. He was in his 57th year. A native of Hamilton, Traynor was a devoted family man and touched the lives of many, quietly helping numerous people throughout his life. He competed in marathons, Ironman events and was a proud member of the Hamilton Harriers Running Club. Read a full obituary on LifeNews.ca.