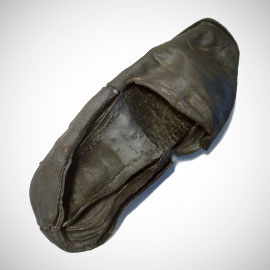 The shoe is amazingly intact, especially given its age.
Buried for likely one hundred or more years, this relic belies the craftsmanship of its original maker. Was it a sample from the Agnew shoe company that started in Brantford in 1879 and went on to become a national chain of 104 stores, or perhaps the handiwork of William Dutton, one of the city's earliest cobblers who set up shop on Colborne Street in 1822? That is still being determined. 
Either way, this simple pegged shoe tells part of the story of Brantford's people and its past, a story that can now be told with new insight.
The shoe is but one of nearly 400,000 artifacts unearthed at the site on Colborne Street in Brantford that will become the future home of the new health, fitness and aquatics complex being built through a partnership between the governments of Canada and Ontario, Wilfrid Laurier University and the YMCA. Archeological discovery work at the site was completed at the end of 2015.
Archeologists are now working through the trove, cataloging and photographing each item, and researching their origins.