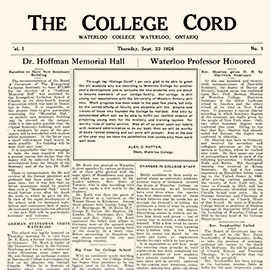 In The College Cord's first edition, published September 1926, editors wrote that the publication would be "a tie that binds," connecting the students of Waterloo College.
The slogan still holds true today for Laurier's student newspaper, which celebrated its 90th anniversary in October.
What was once The College Cord is now known simply as "The Cord," a print and digital newspaper produced by a team of more than 70 volunteers and a 15-member editorial board.
"I can only hope that we can continue to proudly represent Laurier and the surrounding community and continue to provide students with a place to gain experience, create life-long relationships and challenge them to think critically of the community they live in," said Bethany Bowles, The Cord's current editor-in-chief.
With roots in the university's literary societies, The Cord has come a long way since its beginnings, when the paper cost 50 cents for an annual subscription.
But much like in its early days, The Cord remains an integral part of the university community.