Parent says such supports are key for Indigenous learners.
"The supports offered and relationships I have formed here have made my time at Laurier the best," she says. "They've helped me learn a lot and grow."
As Laurier's manager of Indigenous student services, Melissa Ireland oversees the university's Indigenous student centres. Ireland says the centres represent the university's commitment to creating a welcoming environment for Indigenous students, as well as bringing Indigenous and non-Indigenous students, faculty and staff together in an effort to build understanding.
"This is a place where Indigenous students don't have to check themselves at the door and can always be themselves," Ireland says. "They really like the fact that they can come here and express who they are, access traditional medicines and form strong peer connections."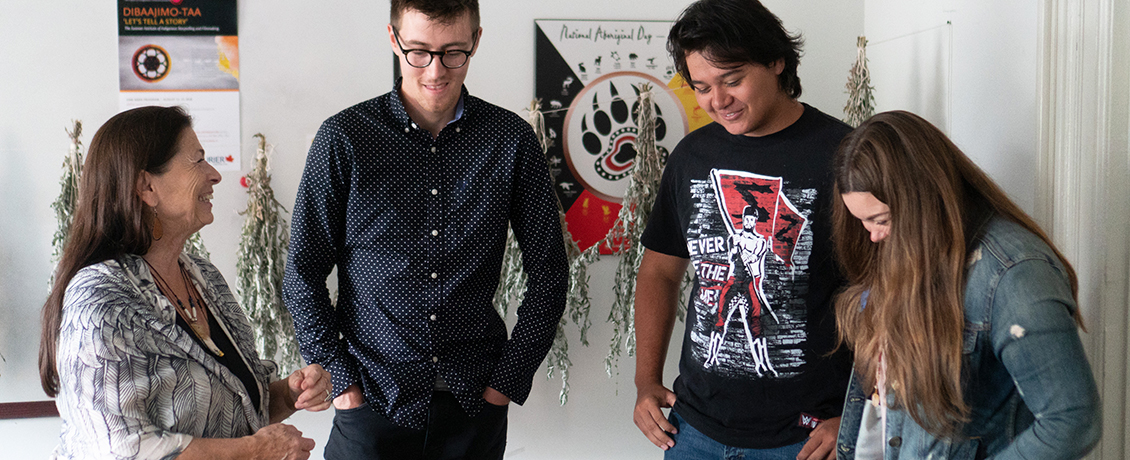 Laurier students studying in Waterloo, Brantford and Kitchener have access to Indigenous elders-in-residence.
Growing confidence
Alanah Jewell, a fourth-year sociology student whose family is from the Oneida Nation of the Thames, says she used to be a "passive learner" when it came to Indigenous issues. That changed after she connected with the Indigenous Student Centre on Laurier's Waterloo campus.
"A lot of Indigenous students have really unique lives and backgrounds, so it's really important that they find someone who they can relate to," Jewell says. "It's important to find community and find resources that will help you through and support you spiritually or academically."