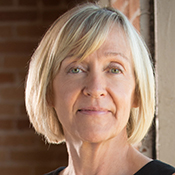 Morouney is well-known for driving success in higher education. Her recent roles include serving as director of Laurier's renowned Bachelor of Business Administration program, associate dean for academic programs and co-chair of Laurier's multi-year, cross-campus integrated planning and resource management initiative.
"These two appointments will drive forward our ambition to address the need for more management talent and more globally competitive technology companies here in Canada," said Micheál Kelly, dean of the Lazaridis School. "With Mark's and Kim's leadership, the Institute will position Canada as a global leader in technology management education."
The Lazaridis Institute for the Management of Technology Enterprises was created to support growth-oriented Canadian technology companies and developed through investments by BlackBerry founder Mike Lazaridis and the Government of Ontario.