Ravi Srinivasan studied cinema and English literature at Laurier before launching his career in the Canadian film industry. As well as serving as a programming associate with the Toronto International Film Festival and Hot Docs Canadian International Documentary Festival, Srinivasan is the founder and executive director of the South Western International Film Festival, or SWIFF, held annually in his home town of Sarnia, Ontario.
How did you get your start in the film industry and was it difficult to break in?
After completing my studies at Laurier, I enrolled in a post-graduate program in film and television at Sheridan College. One of the requirements of the program was to find an internship in film or television. This ended up being more difficult than I anticipated. I didn't know anyone in the industry and I had zero contacts. Without any significant guidance, I used the only resource I had – the Toronto International Film Festival (TIFF) program guide. I cold-called and cold-emailed several producers and production houses. You name it, I called it! After more than two dozen emails and calls, I finally received a response from producer Jennifer Jonas agreeing to meet me for coffee. Jennifer and her company New Real Films have produced 12 feature films and had their last seven premiere at TIFF. New Real agreed to take me on and I began working an unpaid internship during the day and working at the Canadian Opera Company call centre by night to pay the bills. After six months, I was able to prove myself and New Real hired me on a full-time contract and I worked on various areas of development, production and post-production.
One of your current roles is serving as a programming associate with the Toronto International Film Festival. What is it like to serve in that position at TIFF?
As programming associate for the Toronto International Film Festival, I watch 300 feature films over the span of three months. I provide notes on every film and recommend films that should play during the festival. I watch films from within the specific geographical regions of Canada, Scandinavia, Iceland, Philippines and South Asia. Once the festival lineup is locked, I work with key stakeholders and talent to guide and welcome them to Canada and the festival. Over the course of 10 straight days during the festival, I introduce films to audiences, conduct Q&As, host dinners and bring filmmakers to events. It's exhausting and a thrill all at once.
You also work as an international programming associate at the Hot Docs Canadian International Documentary Festival. Can you tell us about that?
It's relatively similar to my role at TIFF but on a smaller scale. I screen 150 documentaries over a four-month span and I work with a brilliant team of programmers to help shape the entire international film selection. We meet once a week to discuss and debate the films we've recommended. It's a really engaging, exciting (and at times frustrating) environment and one of my favourite aspects of being a programmer. Because film and art are so subjective everyone's taste is different, but we're all unquestionably passionate about the art form.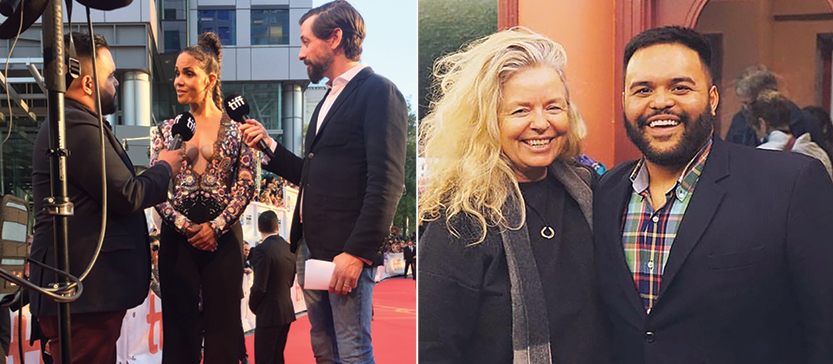 Ravi Srinivasan interviewing Halle Berry at TIFF and pictured with Canadian writer and director Patricia Rozema.
You are founder and executive director of the South Western International Film Festival – or SWIFF – a film festival based in your home town of Sarnia, Ontario. How was the idea for SWIFF born and what kinds of films does it showcase?
The idea for SWIFF was born out of opportunity and necessity. If you look across the province and the country, there's a film festival in most cities with a population of 75,000 people. Sarnia has a massive arts and culture community with a thriving theatre scene and Sarnia was home to one of the largest music festivals in the country – Bayfest. When I was growing up in Sarnia, there were no film festivals, no film workshops and no film-related courses at my high school. I felt if there was, I would have arrived with a more advanced perspective and understanding of the industry. Along with delivering the latest and greatest cinema to my home community, I wanted to provide free enrichment opportunities to high school students, taught by current industry professionals, with the goal of inspiring youth to create while educating them about career opportunities outside of what the local area has to offer.
How much work was it to get the festival off the ground?
We're currently working on our fourth edition. To be honest, it's a lot of work. A festival like TIFF has hundreds of staff, both full-time and contract. When you start something like SWIFF, which is very grassroots, you rely on a core group of dedicated individuals who you trust and who trust in your vision. I oversee every department, including development, marketing, programming and production. We continue to build new partnerships and expand our program every year. Last year saw our highest attendance to date, which was really exciting for the entire team.