Camilla Thérèse Duggan (BA '74, '98)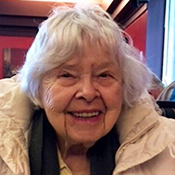 Camilla Thérèse Duggan, also known by her married name, Proulx, passed away on May 7, 2020. She was 92 years old. Duggan began her 45-year teaching career at Saint Martin's school in Toronto's Cabbagetown. She moved to Kitchener in the mid-1950s before travelling to Europe, where she applied to become a teacher for Canada's Department of National Defence. Duggan was deployed near Metz in Alsace-Lorraine on the French-German border, where she taught Grade 1 at a school for the children of Air Force staff. After returning to Canada, Duggan settled in Kitchener and taught at several schools until her retirement in 1990. Following retirement, she completed a bachelor's degree in Fine Arts at Laurier and volunteered at charitable organizations until well into her 80s.
Allison Dunn (BA '09)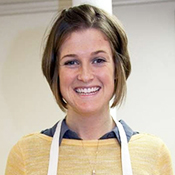 Allison Dunn passed away June 17, 2020 at the age of 33. Dunn lived a life of service to those less fortunate in her community and around the world. Most recently, she employed her talents at Waterloo Region's House of Friendship, where she served on the organization's leadership team. After earning a degree in Global Studies at Laurier, Dunn worked with World Literacy Canada, a Toronto-based non-profit with roots in rural India. She worked in the city of Varanasi, India, advancing literacy and education for women and children across the country. Upon her return to Canada, Dunn continued her work with World Literacy Canada, partnering with the Toronto District School Board and leading the development of the book Gandhi's Glasses, which advanced the vision and cause of social justice promoted by Mahatma Gandhi.
Harry (Sonny) Kumpf (BA '72)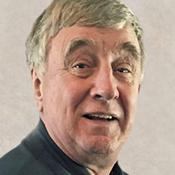 Sonny Kumpf passed away on Sept. 22, 2020 at the age of 70. Kumpf left his mark on the world through tireless volunteering, nurturing his many friendships and always thinking of others before himself. A retired partner from Ernst and Young, he was past president of Kitchener-Westmount Rotary and a Paul Harris medal recipient. Kumpf was Laurier's 2010 Alumnus of the Year and founder and president of the Hawkey Alumni Club. An avid golfer, woodworker and fisherman, he donated many hours to volunteer boards while living in Kitchener-Waterloo, as well as Bayfield, Ontario, where he spent his retirement. Kumpf's friends and family have come together to raise funds to create an endowment in his honour. Visit laurieralumni.ca/sonny for information.
Burl Levine (BA '69)
Burl Levine passed away Aug. 15, 2020. He was 72 years old. Levine graduated from Laurier in 1969 and teachers college in 1970. During a 25-year teaching career at Conestoga College, he taught English before developing and teaching several communication and general education courses. In 1989, Levine founded Inklings, a company that provided writing, proofreading, editing and tutoring services. An accomplished writer, Levine wrote and published five books: Inklings About Relationships (1991), A Queue of Haikus (2010), Diverse Verse (2012), Groan-up Humour (2015) and Insight Out (2016). Levine also served as a volunteer at Guelph Little Theatre for several years, played drums as a member of the King Street Blues Band and was an avid golfer.
Lynn Macaulay (MSW '94)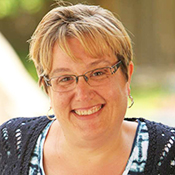 Lynn Macaulay passed away on June 26, 2020. From a young age, Macaulay's passion was to help and serve those most vulnerable in society. Never seeking the spotlight, her humble attitude of Christian service defined her work and personal interactions. In her community of Waterloo, Macaulay was a deeply respected advocate and determined voice for the homeless and those at risk of homelessness. Throughout her two-decade career at Lutherwood in Kitchener, Macaulay worked with tireless commitment to end homelessness, increase access to affordable housing and reduce poverty. Her commitment to others extended beyond her community. In 2011, Macaulay realized a lifelong ambition, serving with the United Church of Canada as an overseas volunteer community development worker in El Salvador. Upon her return to Canada, she continued to fundraise for sick children and advocate for social justice for beloved friends in that country.
Tom Joseph Motz (BBA '85)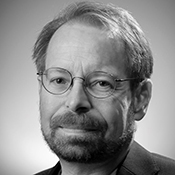 Thomas Joseph Motz passed away June 12, 2020 at the age of 57. Motz began his career working at the Waterloo Region Record, the fifth generation of his family to do so, before becoming part owner of precision machining supplier Trimaster Manufacturing. Following his work at The Record and Trimaster, Motz found great pleasure and pride in his work as a community builder and volunteer. Motz gave a significant amount of his time to community organizations including Laurier's Board of Governors, the Kitchener-Waterloo Art Gallery, the Rotary Club of Kitchener-Conestoga and, notably, St Mary's General Hospital, where he was a longtime, valued member of the board of trustees.
Henry John Pankratz 
(Honorary degree '96)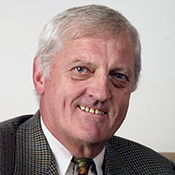 Henry John Pankratz passed away on Aug. 13, 2020 at the age of 82. After completing high school in Steinbach, Manitoba, a love of math and business led Pankratz to Winnipeg, where he began a career in accounting. In 1961, Pankratz joined Clarkson Gordon, now Ernst & Young, Canada, a firm he helped shape over a 38-year career until his retirement in 1999. Alongside his distinguished career, Pankratz cared deeply about the broader community and his country, maintaining significant involvement in professional, business and community affairs. Among his many contributions were serving as president of the Canadian Club of Toronto, chair of the National Ballet of Canada, chair of corporate fundraising for the Ontario Liberal Party, chair of the Canadian Association of Management Consultants and a member of Laurier's Lazaridis School of Business and Economics advisory council. Laurier honoured Pankratz with an Honorary Doctorate of Laws degree in 1996.
Morris Twist (BA '70, MSW '73)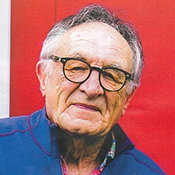 Morris Twist passed away Aug. 14, 2020 at the age of 78. Born in Ireland, Twist immigrated to Canada in 1960 at the age of 18 and soon became a buyer for the T. Eaton Company. After earning a Masters of Social Work at Laurier, Twist became the executive director of Guelph United Way, a position he held for 35 years. A prolific volunteer in the community, Twist held positions with organizations including Wyndham House, the Legal Aid Appeal Committee, the Guelph Community Foundation and Sister Christine's Drop-In Centre. Among his many passions and hobbies, Twist was a skilled woodworker, creating custom boxes for many of his friends and family. Passionate, kind and generous with an unrestrained sense of humour, he made lasting connections with many.