Created in 1986, the Golden Hawk Hall of Fame recognizes outstanding contributions by athletes, coaches, teams and individuals during their years at Laurier. Chosen to Laurier's prestigious class of 2021 are members of a Yates Cup championship team, an acclaimed men's hockey coach and six athletes.
"The Golden Hawk family of athletes, coaches, alumni and builders have had a proud tradition," said Peter Baxter, Laurier's director of athletics and recreation. "To be selected to the Laurier Golden Hawk Hall of Fame comes from more than just hard work and a desire to learn and improve, but also from impressive performances, awards, recognition by peers, success in the classroom and a positive contribution to community life."
2021 Laurier Golden Hawk Hall of Fame inductees:
Kwaku Boateng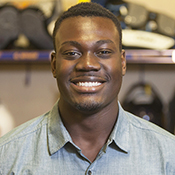 Currently a member of the Edmonton Elks of the Canadian Football League, Kwaku Boateng (BBA '18) was a standout player with the Golden Hawks men's football team. A member of Laurier's 2016 Ontario University Athletics (OUA) championship squad, Boateng was named a U Sports Academic All-Canadian, OUA first team all-star and CIS second team all-Canadian during an illustrious university career. Boateng is also a two-time winner of Laurier's Luke Fusco Academic Athletic Achievement Award and holds Laurier's all-time sack record.