Dorothy Golschesky
Longtime Laurier employee Dorothy Golschesky passed away in September at the age of 91. Dorothy retired from the position of student awards officer in 1994 after a 28-year career at Laurier. She is remembered for her outgoing personality and big heart, as well as for going above and beyond to help students, whether through the student awards office or otherwise.
Walter Gretzky (Hon D.Litt '14)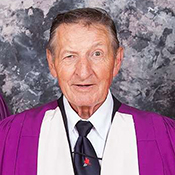 Wilfrid Laurier University mourns the loss of "Canada's Hockey Dad," Walter Gretzky, who passed away March 4, 2021 at the age of 82. A great friend of Laurier, Walter received an Honorary Doctor of Letters degree from the university in 2014. Admired by Canadians from coast to coast, Walter was a linchpin of the Brantford community, offering countless hours to volunteer and charitable efforts. Known as Canada's Hockey Dad as the father of National Hockey League player Wayne Gretzky, Walter was perhaps better known for the example of kindness and giving back he set for all Canadians.