"In admissions, you're changing people's lives, whether it's an Ontario Grade 12 student or a mature international student," says Williams. "For ISOW scholars, coming to Laurier is a huge, life-changing experience. This is their chance to come to Canada, to get an education, to make a difference. Sometimes they can bring their families over and get them out of war-torn areas.
"For me to have any small part in that is just so rewarding. It's a true embodiment of 'Inspiring Lives.'"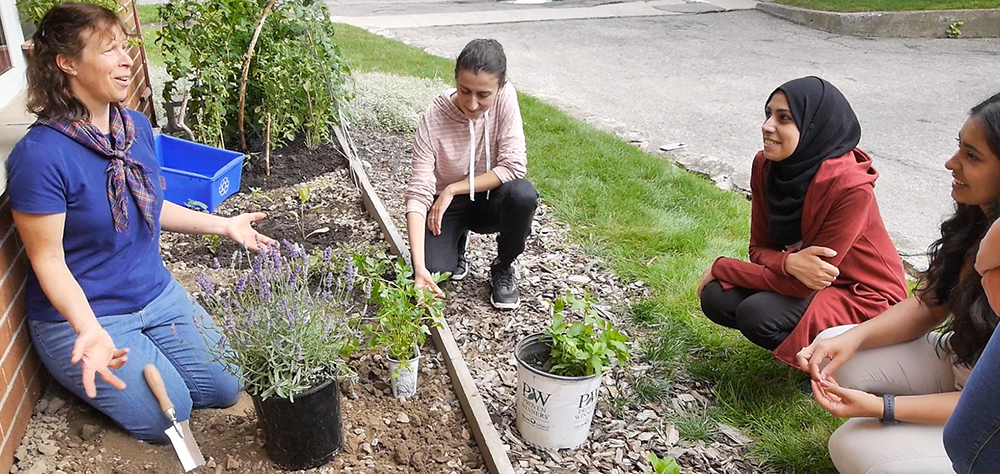 Meg Brockett, known as "ISOW Mom" for her dedication to the organization, gardens with ISOW scholars and volunteers prior to the COVID-19 pandemic.
As ISOW's faculty advisor, Brockett has been the driving force behind the organization's vision and growth since it started as an idea in his classroom, but his dedication extends beyond the responsibilities of his role. Brockett and his partner, Meg, also welcome ISOW scholars and Laurier students to their property for campfires, canoe trips, hikes and other activities. They also provide scholars with support, guidance and a listening ear.
The Brocketts are described as a second family by many ISOW scholars, some of whom, like Saymeh and Sarian, haven't seen their families in person since before the pandemic. The couple has stayed close with many alumni, including former ISOW scholars and volunteers, years later. Meg's dedication has earned her the title of "ISOW Mom."
"I think of Dr. Brockett and Meg as parents away from home," says Sarian. "If we have any problems, we can reach out to them, the ISOW leaders or the ISOW intern. It's kind of nice to have someone to lean on when you need it.  
"I can't even count the number of friends I've made from ISOW. After a certain period, you stop referring to them as people there to help you, they are just friends."