In addition to these efforts, Laurier's Brantford campus has ties with the Brantford-based Friends and Neighbours Group, a grassroots organization whose members are working toward the goal of reconciliation between Indigenous and non-Indigenous communities. The group holds its meetings at Laurier's Research and Academic Centre on Dalhousie Street.
Laurier's Brantford campus also hosts speakers from Six Nations and other Indigenous communities throughout the year. In 2016, the campus hosted an evening with Senator Murray Sinclair, chair of Canada's Truth and Reconciliation Commission, as part of an awareness-raising event attended by more than 500 people. The Brantford campus is also the site of Indigenous Peoples' Day events hosted in partnership with Six Nations. Last year, it hosted Walking With Our Sister's, a travelling art installation honouring missing and murdered Indigenous women.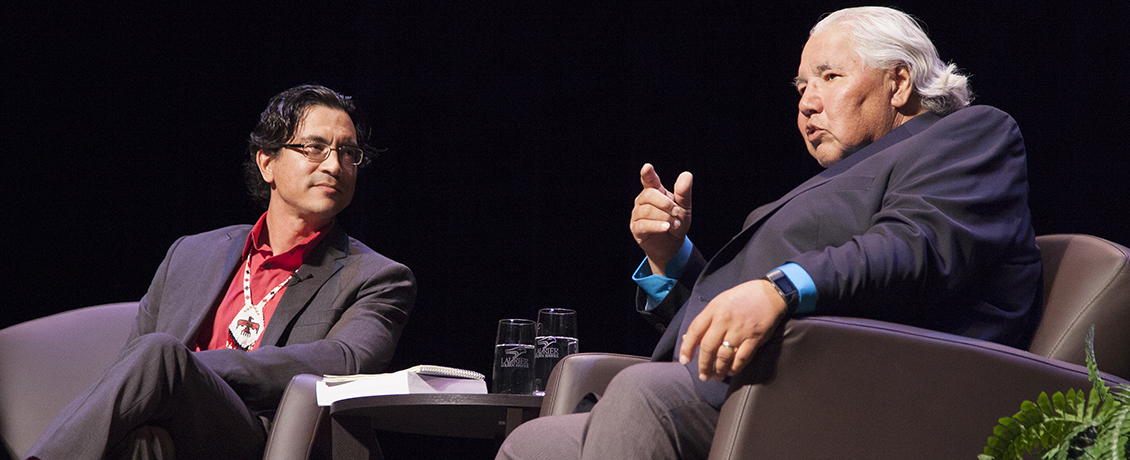 CBC journalist Duncan McCue (left) speaks with Murray Sinclair, chair of Canada's Truth and Reconciliation Commission, during an event at Laurier's Brantford campus. Watch a video from the event.

Looking to the future
As with all relationships, strengthening a bond requires constant nurturing. Heidi Northwood, interim senior executive officer of the Brantford campus, says Laurier will continue to build its relationship with Six Nations, one of the university's most important local partners.
"We have done a lot of good work together during the past 20 years and that will continue," Northwood says. "Moving forward we aim to do more. It's exciting to think about what the next 20 years will bring with Six Nations and Laurier working together as partners."
Chief Hill, too, says she is optimistic when considering what Six Nations and Laurier can accomplish together.
"I look forward to further partnerships and learning experiences as we move forward in the spirit of education," Hill says.
Top photo: Bonnie Whitlow, Indigenous student support coordinator at Laurier's Brantford campus, stands in front of a mural in downtown Brantford honouring the Haudenosaunee people. The mural was created as part of a Laurier-inspired art project.